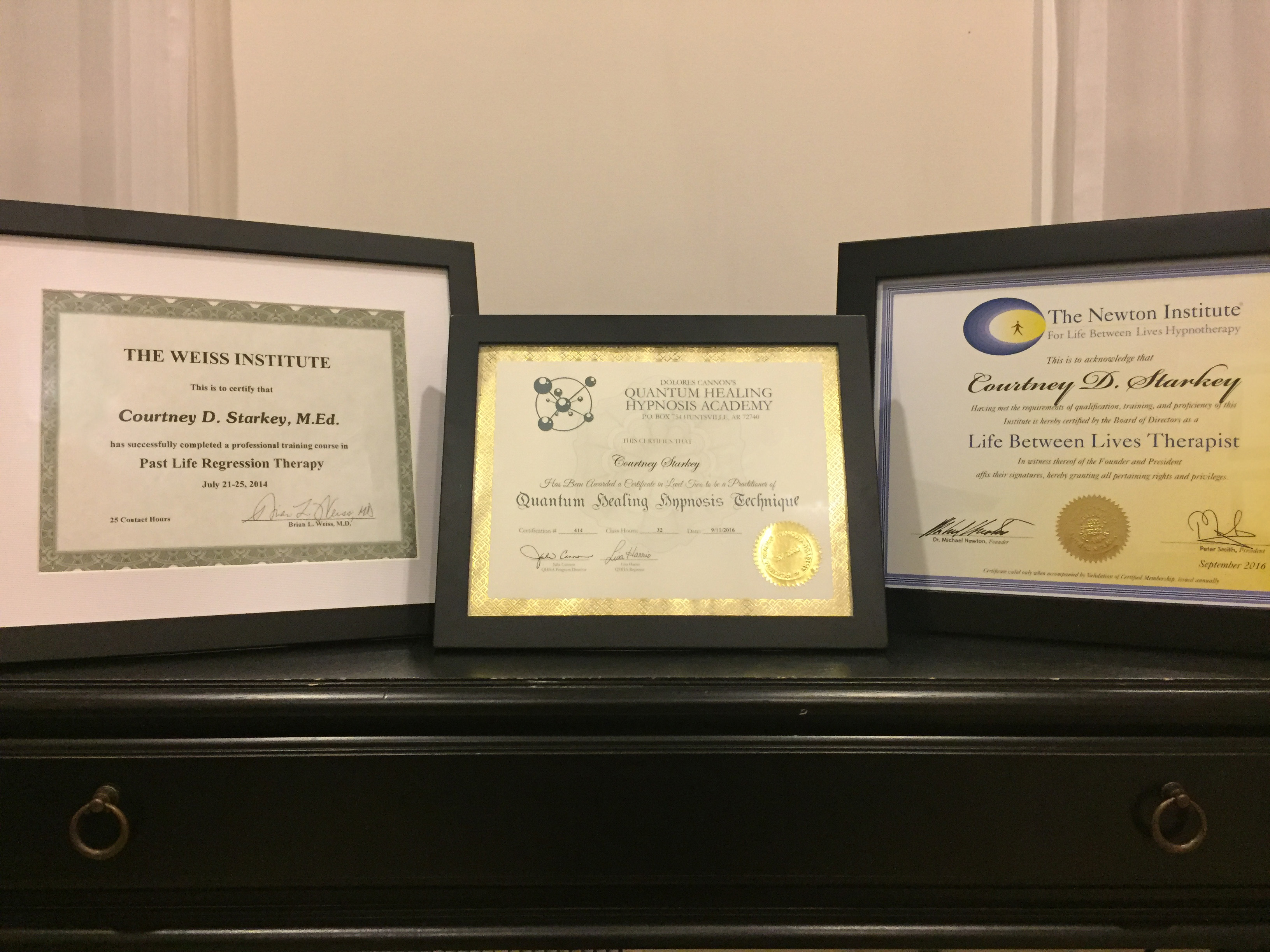 Higher Wisdom Sessions (3 hours $270)
A Higher Wisdom session is the least structured of all of the session types and can go in infinite directions depending on what issue(s) we'll be exploring during the session. The most likely experiences include answers and information derived in a variety of ways … these answers may be very direct or metaphorical in nature.  If they are enigmatic, we will ask clarifying questions to uncover clearer answers.  We will also ask the wisdom within you (your subconscious wisdom) as well as the wisdom that surrounds you (the Universe, spirit guides, etc.) for the best steps to take toward working through an issue.
Higher Wisdom sessions often include self-healing, releasing blocks, improving relationships, allowing abundance, and exploring your life's purpose. Please know that these are just a few of the possibilities of what you may experience… you are very much connected to infinite wisdom during your sessions, thus infinite possibilities await you.
Brian Weiss Style PLR Sessions (4 hours $360)
A Weiss style Past Life Regression (PLR) is a very gentle and loving experience that brings you into a light hypnotic state via a relaxation exercise and takes you through several past life memories that will be helpful for your learning, healing, and growth.  We will also explore the lessons that you were meant to learn in that past lifetime as well as how they relate to the lessons you are learning in your current life.  This style of hypnosis often leads to connecting with your highest wisdom so that you may understand how to apply what you've learned in the most effective manner.
Bowman PLR Sessions (4 hours $360)
A Bowman style Past Life Regression (PLR) utilizes "affect bridging" to access past life memories that are most relevant to strong feelings/emotions you would like to address and release.  With this technique, we intentionally call to the surface these strong emotions as a way to bridge back to a time and place where you first felt them so that we may discover their origin as well as how to release them.  This style of session digs deeply into these emotions in a very balanced manner… once the origin of the emotion is discovered and released, we will then explore a "balancing" lifetime where you lived a life rich with the "positive opposite" (e.g. a life full of love instead of fear, a life of abundance rather than poverty, a healthy life rather than an illness prone life).  This style of hypnosis often leads to connecting with your highest wisdom so that you may understand how to apply what you've learned in the most effective manner.
Cannon QHHT Sessions (4 hours $360)
A Quantum Healing Hypnosis Technique (QHHT) session gently guides you toward accessing past life memories as well as your own highest wisdom. What makes QHHT a truly special method is that it takes you into very deep state of hypnosis where we will have a conversation with your Subconscious to unlock profound self-healing and wisdom. You may ask any questions in this state and your Subconscious will be able to answer directly through you.
This state of hypnosis is so deep that you may not consciously recall some of the Subconscious portion of the session. Therefore, QHHT sessions are always recorded so the client can consciously listen to and review the knowledge received, which allows the conscious mind to become aware of and reinforce the Subconscious wisdom presented during the session. 
"Part 1" LBL
®

(4 hours $360)
("Part 1" and "Part 2" are both required to have a complete LBL

®

Session)

A Newton style Past Life Regression (PLR) is the gateway to the Life Between Lives® (LBL) process and is the first in a two-step process by which you may experience LBL. PLR is a key part of the LBL process and the journey to the spiritual realm. You will travel back in time via early memories in this life (including a fascinating in utero experience where you first meet your Soul Self) and continue further back in time to your most recent past life. We delve into significant events and relationships within this past life and continue our exploration up until the final day of that life. This is where we "pause" the "Part 1" session as a perfect primer for the "Part 2" session.
"Part 2" LBL
®

(4 hours $360)
("Part 1" and "Part 2" are both required to have a complete LBL

®

Session)

The "Part 2" session resumes on the final day of the most recent past life. When we reconnect with that final day, we use the final moments of that life to seemlessly transition into the spirit realm. Once on "the other side", we begin the deep exploration of your authentic self as well as the profound wisdom of the spiritual realm.

This deep hypnotic process is designed to connect you with your Soul Self/higher wisdom, including an enlightened and more complete understanding of who you really are. This connection to your true self occurs once we enter into the spirit realm, and you get to meet yourself as a soul ... since your hypnosis experience will be through the perception of your Soul Self rather than through your human mind. In addition to getting to know yourself and the Universe more deeply, you will also gain a new understanding of how your soul interacts with others as part of a soul group and/or specialized groups (addressing your soul's talents, educational interests, recreational preferences, etc.). LBL hypnosis also deeply connects you to the wisdom of your spirit guides/teachers, which allows you to draw guidance and information from their extraordinary knowledge. LBL hypnosis has virtually limitless possibilities, including the opportunity to explore why you chose to be you in your current human form, as well as agreements/contracts/relationships made with other souls (prior to this lifetime), and uncovering the origin of habitual behaviors and patterns that you may wish to learn from and release. This deep exploration of your Soul Self can be of tremendous (and lasting) benefit to your everyday experience as a human being.